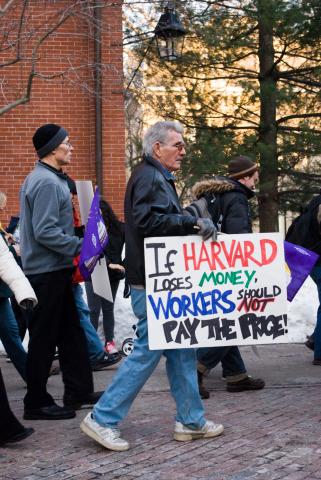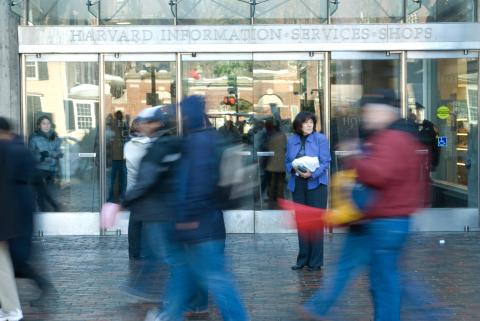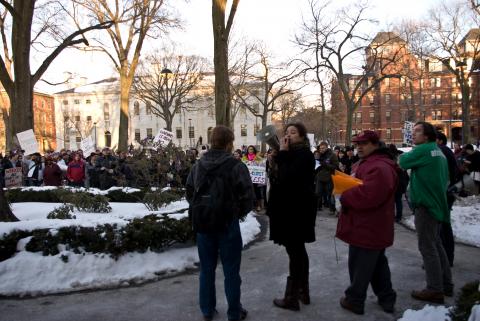 Twin Labor Demonstrations Demand End to Layoffs of Harvard University Staff Amidst Campus-wide Budget Cuts
6 March 2009 - 9:28pm
|
superuser
by Jason Pramas
Cambridge, MA - Two rallies against proposed staff layoffs at Harvard University were held at Holyoke Center in Harvard Square yesterday by unions and student allies at 12:30 and 4 p.m. respectively. The first protest, led by members of the Harvard Union of Clerical and Technical Workers, drew over 100 people. The second, led by the Service Employees International Union Local 615, drew over 200 people and marched onto the main Harvard campus - concluding with a short rally outside Massachusetts Hall.
Both unions and the Harvard student group Student Labor Action Movement have organized a "No Layoffs Campaign" against the ongoing and upcoming layoffs of campus workers. They argue that, even after losing billions in failing economy of recent months, Harvard still had an endowment of $29 billion in December, plus income from national and private research grants, rents, gifts and tuition. Yet Harvard has announced budget cuts of 10-15% across the board - even before finishing their FY 2010 budget. Organizers believe that there is no excuse for such a wealthy institution to layoff clerical workers, janitors, dining hall staff and other low paid workers - especially when contributing to unemployment will only exacerbate the effects of the recession in the Boston metropolitan area.
Geoff Carens, library worker and HUCTWU representative, explained, "We're out here today because the richest university on Earth is threatening to layoff our members. One of my friends just got laid off two days ago. They're threatening savage cuts for the custodial staff - 30, 40, 50 percent at some places. They're bringing workers into captive audience meetings and terrifying them about losing their jobs. Consolidating departments and forcing people to do different job tasks. We've had work rules in place about that in the past and they're trying to bulldoze over everything.
"So it's a very bad situation. We feel like Harvard has plenty of money. When I came here 20 years ago they had $4.5 billion in their endowment. Now they have 29 billion. To me, that's a staggering record of capital accumulation. And they made some risky investments that made the endowment skyrocket during the boom times - leveraged private equity, oil, timber, hedge funds, and of course these things, when the economy is doing great they do fantastic and the endowment doubled in just a few years. Predictably, in a downturn, those investments are going to take a hit. But they want us to pay for that. They want ordinary workers to pay for their investment strategies. They pay their top people - one guy got 6.4 million in a year for managing a Harvard endowment. There were several of them. It was reported in the Globe. He goes up from 3 million to 6 million. So why do they have to cut jobs?"
Bedardo Sola agrees. According to SEIU staff, he has worked for OneSource/ABM as a janitor at Harvard University for 5 years. He holds a full time job and is the local shop steward. Sola is the sole provider for his wife and 9 year old daughter, who still lives in his native El Salvador. Both are infirm and depend on his job at Harvard to cover necessary medical procedures. He first immigrated to the United States 9 years ago, as he couldn't provide for his then-4-month-old daughter's costly medical care. In addition, his wife suffers from a condition that can leave her blind. He will be laid off on March 16th by OneSource/ABM, under instructions by Harvard Real Estate Services as part of a plan to "reduce costs in General Housekeeping by 40 percent."
When asked why he was at the rally, Sola said, "My daughter and my wife are the source of my strength and the reason I continue fighting. I know that there is a light at the end of the tunnel. Crisis is nothing new for me. I have lived it here and in El Salvador. But I have also kept the faith and hope for a better future. Here at Harvard we have won our fight and our causes as the union and with the support the students. That is our secret weapon to win this struggle, our struggle for justice and equality of opportunities."
Harvard senior Alyssa Aguilera of the Student Labor Action Movement echoed the sentiments of the union workers, "So Harvard like lots of other people and institutions around the world has some money issues right now. They're slated to do a lot of like budget cuts and like really like take a hard look, as they say, at the spending that's happening. So part of that, we assume, is gonna be laying off lots of people - especially the lowest paid workers on campus.
"There haven't been like huge massive layoffs yet. They're still kind of working out the budgets. But the first indications of what's ahead is that at Harvard Medical School and Harvard Real Estate Properties custodial staffing levels were slashed about 40 percent - which is pretty substantial and kind of also indicates that the people that are going to hurt the most in this process are the workers, the janitors, the dining hall workers, the people that work in the library and things like that. As students we think that it's really important to say that saving jobs is a priority. "
Kevin Galvin, director of News and Media Relations for Harvard, explained the university's position, "Our workforce is a critical part of all we do at Harvard, and we recognize that there is a responsibility that comes with being one of the largest employers in Massachusetts. At the same time, compensation and benefits account for nearly half the University's budget, so we have to look carefully at those costs while minimizing the impact on the workforce. With that in mind, we have said that there will be no salary increases for exempt employees and faculty this year, and we have offered a voluntary early retirement program for which 1,600 staff members are eligible. We also are vigorously scrutinizing non-personnel expenses for savings. Ultimately, each school and unit must assess the size of its workforce relative to available resources and it is too early to rule out any options.
When asked if she thought that Harvard really can't afford to keep the existing workforce on, Aguilera responded, "I think they can, I think that Harvard prides itself on the forefront of innovation and thought. I think that there's more innovative solutions to a budget deficit than laying off half your custodial staff. There are things to be done. They pay the richest people in the world to manage their money, I'm sure they can figure something out."
The unions and students plan to continue their "No Layoffs Campaign" and step up pressure on the Harvard University to reinstate workers that have already been laid off - like Harvard School of Design employee Helen Boos - and end plans for more significant layoffs.
License:
Creative Commons 3.0 BY-NC-SA