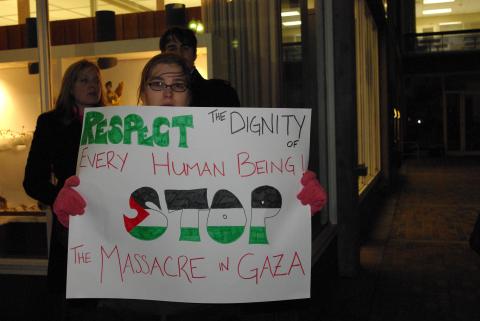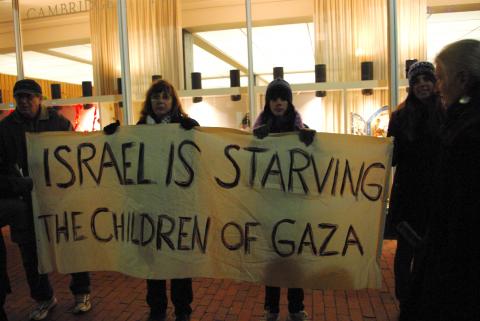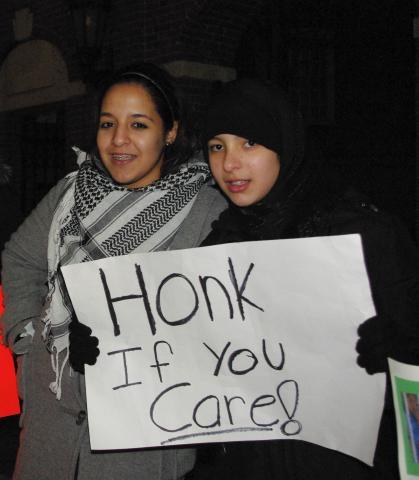 Local Human Rights Groups Protest Israeli Attack on Gaza Strip; Latest in Series of Boston-Area Responses to the Growing Crisis
30 December 2008 - 3:13am
|
jpramas
by Jason Pramas
Cambridge, MA - Over 100 people from the Boston Coalition for Palestinian Rights and several other human rights and pro-Palestinian organizations held a spirited protest Monday evening against the ongoing Israeli attacks on the Gaza Strip. The action was the latest in a series of local demonstrations called over the last two days by numerous political and religious groups against the air strikes on the densely populated area. The attacks began on December 27th.
Protestor Nancy Murray, president of the Gaza Mental Health Foundation, explained, "We're here to express our outrage at Israel's use of F16s supplied by the USA against a people whom it had already caged in an open-air prison and deprived of sufficient food, water, fuel and medicine and medical supplies for more than 18 months. We refuse to stand silently by while Israel piles war crime on war crime, with the blessing of our own government."
The Israeli government claims it is attacking military targets controlled by Hamas - the main ruling party in the current coalition government of the Palestinian Authority - in response to dozens of rocket attacks against Israeli civilian targets, but a growing array of international governmental and non-governmental observers say Israel is also deliberately targeting hospitals, schools, and other non-military institutions.
Pro-Israel organizations in the Boston area including Combined Jewish Philanthropies have maintained to the regional news media that the attacks are an appropriate response to Hamas actions and that they continue to stand behind the Israeli government - although they state that the civilian casualties are regrettable.
But protestors respond that those attacks are out of all proportion to Hamas actions - for example, citing statistics that Hamas rockets have recently killed 4 Israelis while the Israeli attack on Gaza has already killed over 350 Palestinians and wounded at least 3 times that number - the majority of whom are civilians. They believe this constitutes collective punishment in violation of international law and a massive violation of Palestinian human rights, especially when compounded with the Israeli blockade of basic supplies to the Gaza Strip in recent months. They are calling on the United Nations, the United States and other major powers to intervene in the conflict, and broker an immediate ceasefire. Similar protests have taken place around the nation and the world.
The event was peaceful. There was no police presence and no counter-demonstrators.
Organizers say more protests are to follow later this week.
In related news, a press conference called at Sen. John Kerry's (D - Mass.) Boston office earlier on Monday by the Massachusetts Chapter of the American Arab Anti-Discrimination Coalition asked Kerry's aides for a meeting to discuss his position on the Gaza crisis. The aides agreed to a meeting on Kerry's behalf within the next few days.
For more information on the ongoing local and national protests, check out Boston Indymedia and US Indymedia.
License:
Creative Commons 3.0 BY-NC-SA