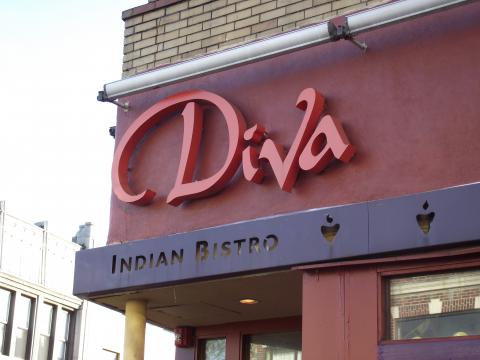 Immigrant Workers Challenging Former Employers in Court over Wage Allegations
20 June 2013 - 3:45am
|
superuser
by Jonathan Adams (Staff) (Staff)
BOSTON – Seven former employees of four Indian restaurants in the Boston area are in an ongoing federal lawsuit with their ex-employers over a wage dispute.
The seven allege that they were not paid the mandatory minimum wage – currently $8 an hour in the Commonwealth – or overtime pay for more than 40 hours worked in a week, and several of them allege they were not paid at all for short periods toward the end of their employment.
The suits were launched in October last year and came to the attention of Open Media Boston in December a one of a series of pickets outside Diva Indian Bistro in Somerville organized by the immigrant rights group Centro Presente.
According to records at the US District Court of Massachusetts in Boston, on various dates of employment beginning during 2005 and ending in April 2012, it's alleged that five of the employees worked over 70 hours each week, and the other two a minimum of 60 hours each week. 
The documents were filed by plaintiff's counsel Audrey Richardson of Greater Boston Legal Services at the John J. Moakley Courthouse, which presently is seeing heavy media coverage of the Whitey Bulger trial.
During their employment, the workers allege that they earned various amounts ranging from $350 to $550 a week, below the minimum wage for each week worked, and without receiving overtime pay. They also allege that they were paid a fixed weekly salary.
Four of the employees – Marcos Che Cucul, Luis Humberto Guardado, Carlos Tzi Beb, and Yovani Guardado – had jobs at the now closed Mumbai Chopstix at 254 Newbury St. in Boston.
Jose Nunez worked at Café of India 52A Brattle St, Cambridge, Cruz Manuel Melgar worked at Diva Indian Bistro, 246 Elm St., Somerville, and Jose Alexander Garcia worked at Bukhara, 701 Centre St., Jamaica Plain. Café of India also is now closed.
Employees claim that at no time were they aware of their rights concerning the minimum wage and overtime pay, and they allege that no notices explaining these rights were on display in any of the workplaces as per federal law.
The employees at Mumbai Chopstix and Café of India allege that they did not receive their final paychecks for between three and five weeks of work.
Several of the employees also allege that they were pressured to take money from their former employers, either by check or cash, for the pay not received, and that they were only given the payment in exchange for signing documents that they did not understand, because they were written in English. 
In records filed by defense counsel John N. Lewis of John N. Lewis and Associates the significant allegations made by the plaintiffs in each of the cases are denied:
•
The defense denies the alleged dates of employment, and the hours worked on a weekly basis for each employee, and they allege that the plaintiffs asked to be paid as contract labor with no deductions for state and federal taxes.
•
The defense admits that the level of pay given to each employee on a weekly basis is correct, but denies that it was a fixed salary, as claimed by the plaintiffs.
•
The defense admits that due to the closure of Mumbai Chopstix and Café of India, those who worked there were unable to pick up their final checks at the restaurants; nor where they able to receive checks at home, because their employers had not been provided with a mailing address. But the defense denies that they were not paid.
•
They deny the allegations that employees were "pressured" to take payments for their final paychecks, and they challenge plaintiffs to prove how they felt when accepting those payments. While the employees allege that they were required to sign documents they did not understand, the defense alleges that they were required to sign only a receipt for payment.
•
The defense dismisses the allegations that they paid employees below the minimum wage, but they admit that they did not pay overtime rates, because the Massachusetts Minimum Fair Wage Act has an exemption for restaurant workers.  
•
Also, the defense denies the allegations that notices concerning minimum wage and overtime pay rights were not on display, and they challenge the plaintiffs to prove what they knew about their rights at the time of their employment.
While there are four separate court cases in progress, based on each individual restaurant, they are interrelated, and for the purposes of evidence-gathering the cases have been consolidated into one.
The four restaurants in question are, or were, owned and operated by One World Cuisine Group, LLC (One World) with a principal office presently at 8 Newbury St., Boston; previously registered with the Secretary of the Commonwealth as One World Cuisine, LLC, with an office at 297 Newbury St.
One World is a defendant in each of the four suits along with its manager, Amrik Singh Pabla, who has an address at 32 Solomon Pierce Rd., Lexington.
The defendants in the separate suits are:
•
Mumbai Chopstix, also known as Gurbir-Tanu, LLC, which was managed by Surinder Singh, the first cousin of Amrik, with an address at 144 Woburn St., Lexington. 
•
Café of India, also known as Jaswinder, Inc., which had Daljit Kaur with an address at 32 Solomon Pierce Rd., Lexington, as its president and treasurer. At the same address, Jaswinder Singh Pabla was a former president and treasurer. Daljit is the father of brothers Amrik and Jaswinder. Manager of Café of India and the brother-in-law of Amrik and Jaswinder, Rashpal Singh lives at 22 Miller St., Somerville. 
•
Diva Indian Bistro, also known as Pavan Restaurant Group, Inc., has a principal office at 246 Elm St., Somerville. Jaswinder is currently listed as the president of Pavan and Amrik is the treasurer
•
Bukhara, also known as Manraj, Inc., with a principal office at the former address of One World lists Amrik as its current president and Jaswinder as the Treasurer.
Each of the restaurants has at one time or another used the address for One World when registering with the Secretary of the Commonwealth, according to court filings.
All of the workers are immigrants to the US – at least two of which are known to be originally from Honduras – and have addresses in Allston; though the exact addresses are not given in the records.
The overall amount being claimed has since been removed from the initial court filings, but it was reportedly over $180,000. Any monetary award will now be determined by the court if it finds in favor of the plaintiffs. In that event, they may be eligible to receive triple damages, costs, and legal fees.
A letter to plaintiffs' attorney Richardson on October 17, 2012 from the Attorney General's office gave the go-ahead for the lawsuits against the defendants following a complaint to the Fair Labor Division.
The letter says, "…we are authorizing you to pursue this matter through a civil lawsuit immediately," and also that the plaintiffs, "…may obtain injunctive relief, treble damages for any loss or wages and other benefits, as well as the costs of litigation and reasonable attorney's fees."
The defense has filed a counterclaim for state and federal taxes allegedly not paid by their former employees in a bid to ensure that they're not held liable by the court for something that they allege is the employees' responsibility.
The key laws in question in each case are the Massachusetts Timely Payment of Wages Act, Massachusetts Minimum Wage Act, and the federal Fair Labor Standards Act.
As both federal and state laws have been allegedly broken, the cases are being heard in federal court, which takes precedence.
Both sides in the cases have asked for a jury during a trial expected to be schedule sometime after the summer following the pre-trial motions and evidence-gathering.
In April, Open Media Boston reported that Somerville Mayor Joseph A. Curtatone proposed a new 'wage theft' ordinance, following a petition by Centro Presente for a public hearing by the city's legislature. That proposal is still under consideration by the Board of Alderman's Legislative Matters Committee.