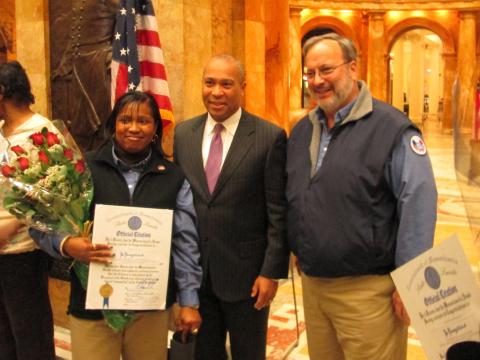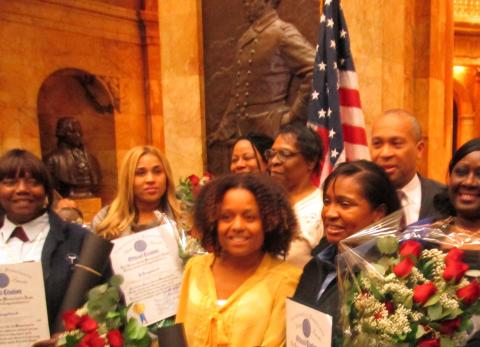 Mass. Officials Remember Rosa Parks; Honor Nine African-American Women Transit Advocates
13 February 2013 - 5:35pm
|
Andrew Jeromski
by Andrew Jeromski (Staff)
BOSTON/Beacon Hill—State and transportation officials marked the memory of Rosa Parks at the State House Tuesday by honoring nine African-American women who advocate for more equitable transportation opportunities throughout the Bay State's public transit system.
February is Black History Month. Parks would have turned 100 years old on February 4th.
Governor Deval Patrick and Senate President Therese Murray, joined by MBTA general manager Dr. Beverly Scott, state transportation secretary Richard Davey and representatives of the Amalgamated Transit Union, the Boston Carmen's Union and event organizers Community Labor United's "Public Transit-Public Good" campaign, honored the women in the Nurses Hall ceremony for exemplifying the "courage and community spirit of Rosa Parks."
"I met Rosa Parks once or twice in my life,That's how old I am" Patrick said. "She was a diminutive, modest, unexpected kind of hero. But she changed the world. We honor people today whose experience, whose example is about changing the world."
Senate President Murray echoed the governor's sentiments in her address.
"The women we are honoring today embody what Rosa believed, and have chosen to stand up and be a voice for others," said Murray, who met Rosa Parks at the 1988 Democratic National Convention in Atlanta. "Your efforts are admirable and deserve recognition, and I have citations for each of you from the senate."
The nine honorees were: Quentia "Nunu" Laguer, of Springfield, a youth leader with Alliance to Develop Power; Andrea Odom, of Springfield, a bus driver with the Pioneer Valley Transporation Authority and member of ATU Local 448; Mariela Ogando, of New Bedford, a bus driver with the Southeastern Regional Transit Authority and member of ATU Local 1037; Dana Rebeiro, of New Bedford, a documentary filmmaker and member of Bus Riders United; Courtney Duarte-Souto, of New Bedford, a member of Bus Riders United; Mary Young, of Randolph, an MBTA bus driver and member of the Boston Carmen's Union; Wilhelmina Melrose, of Roxbury, a transit rights activist and member of the Mass. Senior Action Council; Khalida Smith, of Jamaica Plain, a former coordinator of the T Riders Union and Cynthia Ellis, of Roxbury, an MBTA mechanic and supervisor and member of International Association of Machinists and Aerospace Workers Local 264.
Not being one to miss a good opportunity, Governor Patrick delivered an impassioned address, making the case for expanding transportation access.
"Right now, we are going to make a decision—all of us—about what kind of Commonwealth we want and whether we are going to invest in it, whether we're going to sacrifice for it," said Patrick. "Whether it matters to people who use The Ride, or need a train to run late so they can get home from work or school or who need a bus route to expand so that it unlocks economic opportunity where they live and where they want to work, where the regions of the Commonwealth that have gone ignored for a long time because the only thing we think to invest in is the Big Dig. Are we going to turn that around or are we going to accept it the way it has been? I say turn it around.
"I think turning it around is going to be up to you. People who maybe think of themselves as meek and small and diminutive, but, who, just like Rosa Parks, have got to find their inner giant .... Because we are asking something that people in politics are not supposed to ask: Which is that we sacrifice for a better Commonwealth."
Rosa Parks played a prominent role in the American civil rights movement, by refusing to yield her seat on a Montgomery, AL bus to a white passenger, and, subsequently spearheading a 381-day bus boycott that made national headlines, drawing much visibility to the plight of African-Americans in the south.
"In refusing to give up her seat on a bus, Ms. Parks helped launch a bus boycott that lasted 381 days," said Darlene Lombos, co-director of Community Labor United. "That struggle continues today. These women are carrying on Rosa Parks' work by making transit accessible to all. They share her passion for justice."
The award ceremony was emceed by Rev. Gloria White-Hammond, and drew a standing-room-only crowd to the Nurses Hall.
Community Labor United's "Public Transit-Public Good" campaign brings together labor unions, community organizations and environmental groups with the stated goal of fixing the state's public transportation system, fund it and make it fair and accessible to all.