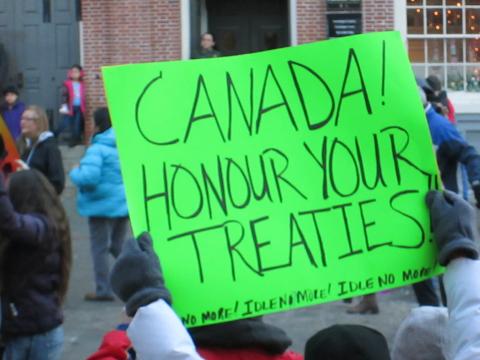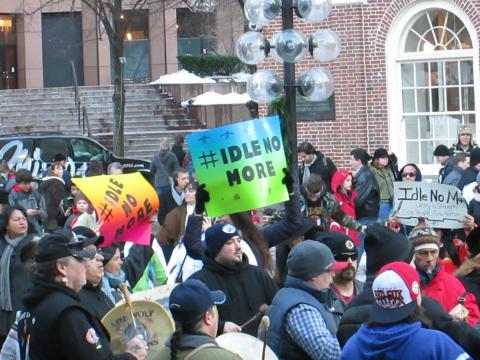 IdleNoMore Hits Faneuil Hall to Call Attention to Plight of Hunger Striking Canadian Chief
2 January 2013 - 6:22pm
|
Andrew Jeromski
by Andrew Jeromski (Staff)
BOSTON/Faneuil Hall - It is New Year's Eve. One moment Faneuil Hall is its usual bustling self: tourists and shoppers languidly pick their way over snow and ice-covered cobblestones in search of post-Christmas bargains at nearby Quincy Market. It is a moment that has played out countless times.
The next moment, however, bears small resemblance to the one that preceded.
As if from nowhere, the steps of the historic meeting house are transformed into concentric circles of singing, sign-carrying Native Americans, at the center of which stand a small group of men and women beating drums.
It is a flash mob. They are called IdleNoMore, and the reason they chose to spend a rather chilly portion of New Year's Eve at Faneuil Hall dancing and playing drums is nothing if not a very good one.
The folks from IdleNoMore—and various other Native American activist groups that turn out—are here as a show of solidarity with a prominent First Nations leader north of the border, who is trying, albeit so far unsuccessfully, to open a dialogue with the government of Canadian Prime Minister Stephen Harper.
Chief Theresa Spence—leader of the Attawapiskat First Nation of Northern Ontario— began her hunger strike on Dec. 11, in response to what was then the expected passage of Harper's omnibus budget legislation, known as bill C-45, and has been living in a tipi on an island in the Ottawa River, sacred to many native tribes, ever since. Her stated goal is not complex: to bring Harper, First Nations leadership and the Governor General of Canada, David Lloyd Johnson, together for talks regarding this piece of legislation, which many say could have dire consequences for Canada's already beleaguered native population, as well as several other historical treaties.
Spence is taking fish broth and liquid, according to reports in the Canadian press, but has not eaten solid food in over three weeks.
Canadian bill C-45, officially signed into law on Dec. 14, makes amendments to a broad swathe of existing legislation, but it is two changes in particular that have Aboriginal activists on both sides of the border crying foul. The bill makes significant changes to the Indian Act, including to land management on reserves, that many observers say make it easier for the Canadian government to control reserve land, and also alters the Navigable Waters Protection Act, or, simply, the Navigation Protection Act, and deals what many are calling a bitter blow to aboriginal land rights in Canada. Before the bill went into law, future development projects would trigger a federal environmental assessment, but that is no longer the case. A state of affairs which First Nations leaders say threatens their right to free, prior and informed consent for construction projects in traditional territories.
The IdleNoMore movement, and others, such as Annita McPhee, head of the Tahltan First Nation council, which was recently successful in its efforts to convince Shell Canada to withdraw from the sacred headwaters of the Skeena, Nass and Stikine rivers in British Columbia, also see C-45 as an attempt to undermine existing environmental protections which would create a ripple effect with repercussions for the health of waterways on both sides of the border.
"It's a direct attempt to undermine the protection of those lakes and waters and to allow access for developers," McPhee recently told the Vancouver Observer. "This is affecting First Nations, but it's affecting everybody. How can we all not be affected by this?"
With private companies no longer obligated to notify the Canadian government about impending infrastructure projects, the federal government no longer needs to consult with First Nations about new projects, such as the Enbridge Northern Gateway Pipeline.
McPhee, for one, believes large projects such as these are the true impetus behind the sweeping changes in C-45.
"That's exactly why I think these processes are being created, to try to bypass First Nations," she told the Vancouver Observer. "When it comes to development, we're the only ones standing in the way. They have to consult us."
This cuts to the core of what Spence, and the IdleNoMore movement, are saying.
"Part of the problem is that federal 'Indian' policy still has, as its main objective, to get rid of the 'Indian Problem,'" said Idle No More spokeswoman, Dr. Pamela Palmater, in a written statement. "Instead of working toward the stated mandate of Indian Affairs 'to improve the social well-being and economic prosperity of First Nations,' Harper is trying, through an aggressive legislative agenda, to do what the White Paper failed to do—get rid of the Indian Problem once and for all."
The White Paper was a 1969 policy document drafted by then Minister of Indian Affairs, Jean Chretien, proposing the total abolishment of the Indian Act, the rejection of land claims and the assimilation of First Nations people into the Canadian population with the status of other ethnic minorities, rather than that of a distinct group.
As if a callous, heavy-handed federal government wasn't enough to deal with, Canada's First Nations also face some of the toughest socio-economic conditions in North America, and have for many years.
Termed "our national shame," by journalists Mia Rabson and Mary Agnes Welch of the Winnipeg Free Press, Canada's First Nations population face living conditions, that, in many cases, rival those found in developing nations such as Haiti. These conditions include higher unemployment, incarceration rates, substance abuse, health problems, fetal alcohol syndrome, lower levels of education and higher levels of poverty than those experienced by the rest of the Canadian population. Suicide rates are more than twice the sex-specific rate and three times the age-specific rate of non-aboriginal Canadians, according to ReligiousTolerance.org. In fact, Pikangikum, in northwestern Ontario, a community within the Ojibwe First Nation, is reputed to have the highest suicide rate in the world.
Canada has the world's largest supply of fresh water, yet, more than 100 aboriginal communities live with tap water so tainted they are under a continual boil alert. One need look no further than Chief Spence's Attawapiskat First Nation, in remote Northern Ontario, for a reminder of the levels of poverty that still persist in parts of North America. In 2011, photographs of deplorable housing conditions in the near-arctic environment of Canada's far north, coupled with a tense fight for funding with the federal government, thrust the plight of Canadian aboriginals into the public eye—a rare feat.
Although the IdleNoMore movement began prior to Spence's hunger strike, and, according to Palmater, will continue after, her struggle has become symbolic of the uphill climb faced by First Nations in Canada. The IdleNoMore movement spread rapidly across social media, with a flurry of activity under the #IdleNoMore hashtag on Twitter, and flash mob events, similar to the one at Faneuil Hall, occurring across Canada and the United States, with one action temporarily shutting down a major Canadian highway.
For Spence's part, she says she is "willing to die for her people," in order to get the PM, First Nations leaders and the Queen together to discuss respect for historical treaties. But Canada's conservative government doesn't appear to be taking Spence's hunger strike all that seriously. Minister of Aboriginal affairs, John Duncan, has brushed off the burgeoning protest movement as "social media," saying "we'll just have to see where that goes," and telling international media that relations between First Nations and the government were "very good."
But former Canadian PM, turned aboriginal rights advocate, Paul Martin says the problem is simple: "We have never admitted to ourselves that we were, and still are, a colonial power," he was quoted as saying by The Guardian.
Over the last three decades, Canadian courts have recognized that First Nations have hunting, fishing and land rights, and, in some instances, outright ownership over vast tracts of unceded territory in British Columbia and elsewhere. Courts have also declared that the treaties that Chief Spence is going without food to see upheld—signed by the British Crown in the 1700 and 1800s, and the Canadian government until the early 20th century—mean the land's wealth should be shared, not removed for personal gains.
Over the years, both federal and provincial authorities have tried various tactics to chip away at these rights, including unilateral legislation, spying on and demonizing aboriginal activists, and even having especially troubling leaders jailed.
But there are signs that popular opinion has shifted in favor of the First Nations, as many Canadians are starting to see the aboriginal legal rights and fierce attachment to their lands as perhaps the nation's last best hope to protect and preserve the largely unspoiled regions of Canada's northern reaches.
The grassroots efforts of IdleNoMore appear to be paying off. The crowd at Faneuil Hall is fairly sizable, and the novelty of seeing a traditional round dance break out causes more than one passerby to inquire "hey, what's going on here"? Each one leaving with at least a cursory knowledge of the plight of Chief Spence and Canada's aboriginals—more than they had prior, one would imagine.
The proof of the impact IdleNoMore is already having is evident. Some 400 miles—or nearly 700 kilometers—south of Ottawa's Victoria Island, where Chief Spence continues to sacrifice herself for her people, there is singing and the beating of drums at Faneuil Hall. With Spence fasting just steps from Ottawa's Parliament Hill, it is a safe bet that every single person who came out to Faneuil Hall on New Year's Eve had a longer journey to get there than would Harper should he relent and choose to meet with Spence.
As of this writing, Chief Spence's hunger strike is at 24 days, and, despite calls from some in the Canadian and international media, Harper is still refusing to see her.