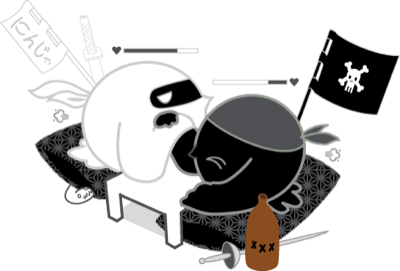 Yo, Ho Ho! It's a Pirate's Life for Me with Birdtorrent for Songbird
23 January 2009 - 11:12pm
|
Jesse K-S
by Jesse Kirdahy-Scalia
There's never been a better time to be a pirate sailing the open source seas. Songbird add-on Birdtorrent, currently in early development by programmer Anthony Hughes, will allow users to search for, find and download torrents directly into their music libraries, all from the Songbird media player. No doubt there are legal applications for the plugin, but those that help kill the music industry are so much more enticing. More on Birdtorrent and Songbird after the jump.
Currently available for download in version 0.3.0 0.4.0, Birdtorrent requires a few steps between search and import to begin playing music. But Hughes has indicated his goal for Birdtorrent is to make music bittorrent downloads as easy to manage in Songbird as iTunes music store downloads are in iTunes. (Of course, neither Apple, nor EMI, nor Sony, nor Warner will be taking any money out of your wallet when you use Birdtorrent.) Hughes writes on his site, "The next few months I will be working toward a 1.0 release. On average, you will see a point-release every couple of weeks. It's going to be hard and fast, but I am confident that I'll come out the other end of the jungle holding the Golden Idol of Fertility." If development goes as planned, users will soon be able to search for music torrents from within Songbird and download it right to their libraries without ever leaving their media player.
Songbird 1.0 was released about a month ago (to our glowing review), and at only fourteen days old, the roadmap to version 1.1 was announced on the Songbird blog. Code named "Hendrix" and due out at the end of February, version 1.1 is set to bring major performance improvements, media playback and library handling. Here are the highlights:
Automatic album art fetching
Watch folders
Songbird will automatically import media added to user's music library by other applications
Gapless playback
URI support
URLs from a page, email, tweet, etc. will launch Songbird and navigate to specific page, similar to iTunes
Better performance
Fewer program crashes, smaller memory footprint, lower CPU usage on Windows and more responsive
Video playback foundation
Video playback support is unlikely in 1.1, but laying a foundation should make complete video support available in the following release
If you haven't already, back up your music library and give Songbird a try. There's lots to look forward to from this development team and the media player's legion of add-ons.
Update
Birdtorrent version 0.4.0 was released just hours after this story was posted. Developer Hughes says, "There are a few caveats and one rather big bug" with this version, so probably only those interested in testing should try it out.
License:
Creative Commons 3.0 BY-NC-SA