Rip and Transcode Audio Like a Pro with Max
4 January 2009 - 9:13pm
|
Jesse K-S
by Jesse Kirdahy-Scalia
iTunes does an admirable job of simplifying media library management, but like many Apple solutions, it does so by sacrificing advanced features and user control. The open source, Mac-only application Max rips, transcodes and tags audio files in more than 20 formats, and gives users back control of their music library. Max is not a media player. It offers professional-level ripping and encoding tools, but does not catalog or play back media. Users will still need a media player to handle their library.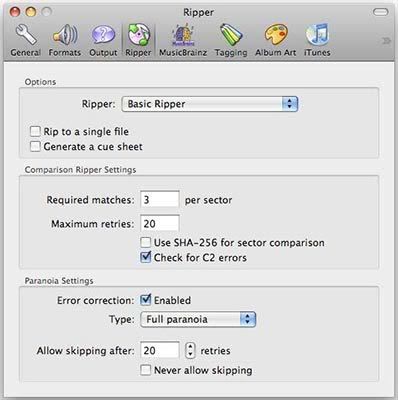 Before you can play your audio, you need to get it onto your computer in the correct format and properly tagged. Max handles these tasks like a champ. It rips CDs using cdparanoia's error-correcting engine, which can create flawless rips of CDs iTunes would give up on. Max gives users full control over the ripping process, allowing them to choose their ripping engine and set error-correction persistence. Similar to iTunes, Max retrieves CD info from MusicBrainz, so you won't have to manually enter track titles and artist info.
Max offers over 20 output formats, both compressed and uncompressed. Most useful, perhaps, Max transcodes FLAC audio to AAC, a task Mac users previously needed command line tools to complete. Max seems uniquely capable of completing this job using a GUI. Max uses open source tools and OS X' built in Core Audio functions to transcode, and copies metadata to the new file format, so your MP3s, AACs and OGGs will be properly tagged and ready to enter your library. Optionally, Max will add the files to your iTunes library. This is great for users who maintain a separate compressed music library just for their iPods; point Max at your uncompressed directory and it will transcode everything, maintaining metadata, and place it in iTunes.
While iTunes offers users extremely limited control over file naming and storage locations, Max allows users to create custom directory structure and file name conventions from metadata. For both ripped CDs and transcoded files, Max will automatically create folders based on file format, release date, artist and album name, disc number, etc.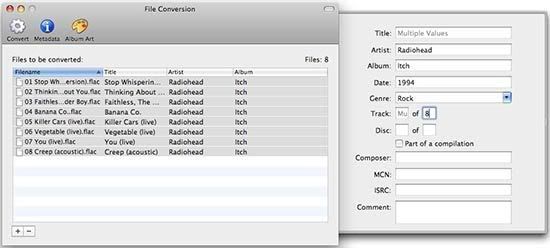 Performance-wise, Max makes good use of multi-core Intel Macs. By default, it works with two encoders simultaneously, smartly utilizing both cores of dual-core machines. Users can increase this to unreasonable numbers of encoders; MacBook users probably shouldn't change this value, but an eight-core Mac Pro likely won't grumble about 32 encoding processes running simultaneously. Encoding can be resource intensive, so if you plan to transcode your entire library, I suggest you get a coffee and watch some TV while Max does its job.
Max offers a few cherries on top. These aren't deal breakers, but they're nice features:
Album art lookup
Growl support
Auto-rip on CD insert
Rip or join multiple files into one
Split single files into multiples using a cue sheet
Pass finished files on to post-processing scripts or applications
Who is Max for? Max performs a few specific functions with exceeding flexibility, but with its fair share of settings and dialog boxes. Audiophiles and the truly techie will appreciate the open source, flexible one-two punch of Max and Songbird. Casual users probably will be satisfied with iTunes, but may at some point realize they need something more advanced. For stubborn, scratched CDs and audio codecs your Mac doesn't recognize, give Max a try.
License:
Creative Commons 3.0 BY-NC-SA