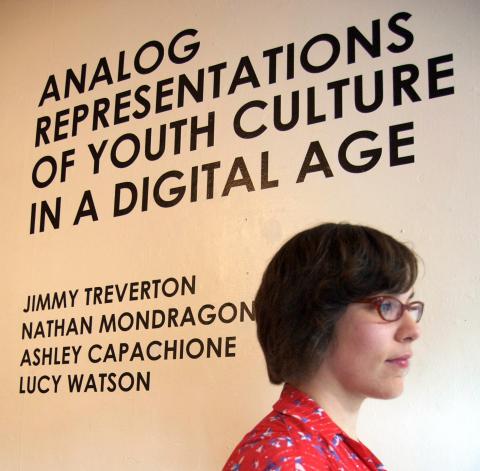 ICONOGRAPHIC: An Ode to the Obsolete
8 August 2009 - 2:16pm
|
lizdewolf
by Liz DeWolf
BOSTON/Jamaica Plain - In a time when new iPod models are released every few months, the ways in which we work, play, and express ourselves have become increasingly dependent on digital technology. It may be surprising that a group of twentysomethings can already feel nostalgic for the objects that marked their childhood, but the relentless rate of technological change means that once familiar products such as VHS tapes, cassettes, floppy disks, popular toys, and Polaroids have become antiquated in a relatively short period of time. Four local, young artists react to the rapid change of popular culture in their exhibit ICONOGRAPHIC: Analog Representations of Youth Culture in a Digital Age. The show opened last Thursday evening at JP Art Market, a gallery and studio run by artist Patti Hudson in Jamaica Plain.
Upon entering the small gallery, the viewer is immediately confronted by a large, brightly painted altar installation on the far wall. Smaller images of this same altar, obscured by the posing bodies of various subjects, are featured in the clusters of Polaroid "altarpiece motifs" scattered around the room. Nathan Mondragon, the photographer behind the altarpiece project, began his work for the exhibit as a way to photograph his friends in a style mimicking religious painting and iconography.
On his idea for the project, Mondragon says, "I lived in New York City for the past couple summers, and I was going out a lot and meeting a lot of different people. I realized that this sort of nightlife celebrity culture existed that I had never experienced before, and I found it very fascinating and overwhelming." Drawing on the work of Andy Warhol and his fixation on symbols of popular culture, Mondragon uses his Polaroid camera to capture the iconic images of the youth culture nightlife phenomenon.
Polaroid film itself is becoming an icon of the past; Polaroid announced last year it would discontinue the instant film that made the brand so famous in the past few decades. "The way that things are going today, I'm not surprised that the film will be discontinued," says Mondragon. "It's just another one of those lost old things that disappear in place of newer, more accessible technology." Like many other devoted Polaroid users, Mondragon waits for a third party company to continue the production of his film of choice.
Ashley Capachione uses items like old vinyl records and cassettes to make relief prints that capture the iconic symbolism of these obsolete objects. On the walls of the gallery, the repetition of simple, colorful images is also somewhat reminiscent of a Warhol exhibit. Rather than commenting on current popular culture, Capachione's work reminds us of once relevant items that have already been relegated to the past.
"I use these old, clunky objects that aren't being made anymore due to their large formats. They've become non-functional in today's quick-moving, digital society and contemporary frame," says Capachione. "When you think about it, each format is relevant for probably a maximum of twenty years. The next best thing is always coming out. I decided to print these things in a relief method to capture them as a memory. They're tokens of my generation, and I used them."
At first glance, Lucy Watson's sculptures appear to be compelling displays of trash with a junk art aesthetic. Upon further inspection, her arrangements of old, ripped toys communicate the mixed social meanings hidden in childhood playthings. Her work deals with the issue that toys, like all images, convey certain messages about how boys and girls are "supposed" to appear and act. Other toys illustrate blatant racism and cartoonish depictions of non-Western cultures.
Watson explains, "I looked for toys that were sort of perverse. I wanted toys that said a lot about popular culture and a lot about race and gender. My intention is to show how complicated these toys are. Whether toys are meant for boys or girls, they fall into different hands sometimes. There is a lot of gray area. I tried to make my sculptures so complicated that their meanings become intangible."
Jimmy Treverton makes sculptures from skateboards and upholstered furniture. The result is an odd-looking ottoman on wheels, an unusable item – and that's the point. Treverton's work plays with the concept of using an object versus the sense of owning an object. The skateboard, a symbol of youth culture meant to be used, scratched, and broken to its fullest potential, becomes the equivalent of a fancy sofa, an artifact not to be dirtied or broken in.
The sculptures make a statement about the growing materialism some believe is a consequence of the digital age. Says Treverton, "There is now a greater desire to own things. We have to acquire the newest stuff in order to have a certain status in society. Seemingly normal things are to be treasured rather than used, or protected rather than worn out. It becomes about the value of the object itself, not about what you do with it. I chose skateboards because they are definitely something people use. I've had mine since I was thirteen and it's about to fall apart and it's cracked. Skateboards are an icon of youth, but youth values are changing."
The exhibit will run until Wednesday, August 12. For gallery hours and information, visit the the JP Art Market website.
Photos © Liz Washburn 2009.