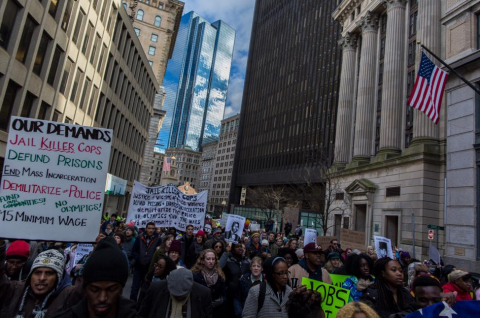 Boston Activists Declare "Freedom Winter"; March for #BlackLivesMatter On MLK Day
23 January 2015 - 11:09pm
|
RadioView
by Dave Goodman and Leonardo March (Staff)
BOSTON – A peaceful but determined group of approximately one thousand marchers took to the streets of Boston on Martin Luther King Day to call for an end to police brutality, a redirection of public funds from prisons to schools, and a living wage for all workers, among other demands.
Noting that demonstrators were all wearing hats, gloves and heavy coats, and emphasizing the importance of remembering history, organizer Brock Satter referred to the new anti-racism movement as "freedom winter."
Sponsored by a coalition of activists and concerned citizens rallying around the slogan and social media meme #BlackLivesMatter, organizers articulated an effort to combine the growing movement against violent police tactics and what they call "criminal injustice" with the historic civil and economic rights campaign synonymous with Reverend King.
Addressing a growing crowd across from the Old State House in Boston, South End resident and activist Brandi Artez, read from King's April 1963 Letter From A Birmingham Jail.
"First, I must confess that over the past few years I have been gravely disappointed with the white moderate. I have almost reached the regrettable conclusion that the Negro's great stumbling block in his stride toward freedom is not the White Citizen's Counciler or the Ku Klux Klanner, but the white moderate, who is more devoted to "order" than to justice; who prefers a negative peace which is the absence of tension to a positive peace which is the presence of justice; who constantly says: "I agree with you in the goal you seek, but I cannot agree with your methods of direct action…"
The activist's use of Dr. King's words about justice and order served as a pointed response to critics of last week's morning rush hour blockade of traffic on both sides of the Southwest Expressway by allies of the "BlackLivesMatter" movement. Twenty nine demonstrators were arrested during that action and face charges of trespassing, disorderly conduct and resisting arrest.
Recently, state legislators called for an increase in the fine for trespassing on state highways, from $50 to $5,000. The Boston Globe reported that Dracut State Representative Colleen Garry "filed a bill that would make protesters liable for manslaughter or attempted murder in the event that a highway blockade led to a fatal accident."
In a speech at the Hynes Convention Center on Friday, Governor Charlie Baker told a gathering of municipal officials that demonstrators who disrupt major thoroughfares "will be dealt with swiftly and appropriately …."
Last year, grand juries in Ferguson, MO and New York City declined to return indictments against police officers who killed Michael Brown and Eric Garner, respectively. In Cleveland, Tamir Rice, a twelve year old playing with a pellet gun was killed by an officer in a public park. The cases have focused criticism on the relationships between police and the communities they patrol and the district attorneys who prosecute officers accused of using unnecessary deadly force. The incidents touched off ongoing protests around the nation.
People participating in the 4 Mile March in Boston on Monday – the number four symbolic of the four plus hours Brown, an unarmed black teenager, lay on the street after being shot by a white police officer – walked stridently and peacefully from the Old State House to the Boston Common. Chanting and singing, the diverse group of races, genders and ages circled the Public Garden twice and staged die-ins; one on Charles Street and one on Beacon across from the State House.
Demonstrators lay prone on the street, some holding up the peace sign with their fingers, while activist leaders read the names of victims of alleged police brutality.  
As marchers chanted "shut this racist system down," "send killer cops to jail" and "this is what democracy looks like," dozens of police, many on bicycles, surrounded the demonstrators forming an escort on either side of the route. Along the way, officers stopped traffic to allow marchers to proceed. An unavoidable observation: they were there just as much to prevent any "disruptive behavior" as they were to ensure free speech.
One newly recruited activist, Kiasja Diamond, said she helped coordinate promotion of the 4 Mile March on Facebook. "Things can't continue on this way," she said. "We're going in circles instead of making progress. This is 2015, why are we still fighting against injustice? Why supposedly this is the best country in the world yet why is there not justice for everyone? Why is there only justice for some?
"Police think they have unlimited rights and unlimited power and that's just not how this works," she said. "We need to unite to show the government this is not how this works, this is a democracy. This is not a tyranny, this is not an oligarchy, an authoritarian state, police do not have unlimited powers, they are supposed to protect and serve, not just do what they want and run amok. And we have to show we're not taking this."
Asked whether or not historically successful attempts to improve community policing in Boston gave her hope about the current relationship between citizens and police, she said "I'm very optimistic. Really, there are so many good police. Police that come into this field, come into that field to do the right thing, to protect and serve the people, to create harmony in communities, not to be like these abusive, authoritarian, wild beasts that are just going crazy basically. But unfortunately, it's this code of silence within the police and community that allows this to happen and that's what needs to change.
"The blue wall of silence has to be broken," she added.
With the late afternoon sun beginning its descent, standing on the Common just behind the newly renovated monument to the Massachusetts 54th Regiment – African American soldiers who fought in the south during the Civil War – demonstrators capped off the march with singing, dancing and several speeches. An activist from Worcester reminded the crowd that "the police are there to uphold the law. We're supposed to obey the law. And sometimes we have to question the police and the laws…"  
Text: Dave Goodman
Photo: Leonardo March