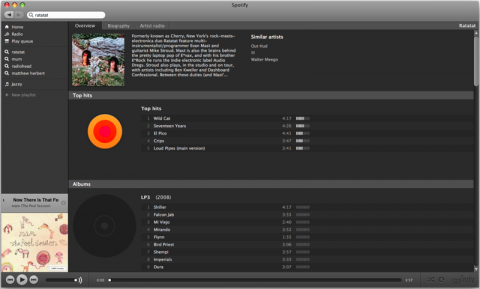 Bad Music? No Music? No Problem! Spotify Supplies Your Soundtrack Free
9 January 2009 - 10:29pm
|
Jesse K-S
by Jesse Kirdahy-Scalia
Touted by Big Music as "the future of digital music consumption," Spotify lets users search for music on major and indie labels alike, and listen to full albums for free. All without the threat of the RIAA knocking on the door. How does it stack up against services like iTunes and Pandora? Read on to find out.
Although its interface is quite similar to iTunes, Spotify has more in common with, and competes more directly with, streaming services like Pandora, and the easy availability of pirated music onbittorrent sites and file sharing networks. Like Pandora, Spotify lets users search for an artist or song and start listening immediately. Unlike iTunes or pirating music, though, users never store the files on their hard drives, which has its benefits but might turn some off to the concept.
Pricing and Availability
Spotify offers both a free ad-supported model and a premium paid, ad-free subscription model for about £10 a month (Spotify is not yet available in the US). Features for both models are identical, but premium subscribers get early access to some exclusive Spotify content. Currently, Spotify is only available for OS X and Windows. However, the Spotify team has provided detailed instructions forinstalling under Wine on Linux; an excuse, for sure, but one open source advocates will appreciate.
User Interface
Spotify offers an interface that iTunes users will recognize instantly. Search is the user's connection to content, and it looks great. Neatly organized, easily navigable search results make it a breeze for users to immediately find and listen to the music they want. From an artist search, users can find an artist biography and seed a radio station (similar to Pandora). The biggest advantage Spotify has over Pandora is the ability to listen to full albums. In fact, users can listen to full versions of anything Spotify returns in search results. Spotify also saves the past five searches, and users can drag any number of songs into a new or existing playlist to quickly return to them later.
A right click menu provides standard contextual functionality, but also reveals a "buy from" menu item that is currently nonfunctional. Does this hint at the possibility of iTunes or Amazon integration in the future? If so, it would make Spotify the best music preview service in the world.
Performance and Quality
After hitting the play button, Spotify starts playing fast. Like, less than a second fast. Like, faster than my computer can spin up my hard drive and play a file from a local disk fast. The same is true for skipping tracks. Spotify achieves this by serving content from central servers, and serving the most popular content via peer to peer exchange, similar to Joost. Playback is mostly smooth, but limited bandwidth can result in stops and buffering fits. Audio quality is less than that of a CD (some audio details are lost in the stream), and is comparable to Pandora.
Music Catalogue
Although Spotify has had the full-throated, public support of four major music labels since October, its music catalogue seems anorexic. Searches for popular artists like Radiohead, Beck or Björk reveal multitudes of compilations, remix and cover albums, but no LPs or even EPs or singles. It's cool to find and hear remixes of my favorite artists' tracks, but c'mon, where's my "Mutations?" Where's my "Homogenic?" Search for something more rare, and you're likely to get no results. This is understandable since Spotify has only recently gotten the labels' blessings, but if the service expects to compete against the flood of freely available torrents, the Spotify team will need to get quality offerings online fast.
Worth Waiting For?
Spotify's concept and execution are excellent, and they have lots of room to grow the application and platform. However, content is king, and right now there's not much in the court. If Spotify can secure desirable content, it will surely become a killer platform. If not, it will be destined to fail like Joost has. Only time and a public release will tell which it will be.
License:
Creative Commons 3.0 BY-NC-SA