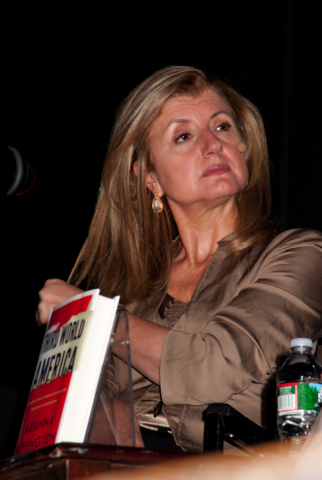 Arianna Huffington Speaks at the Brattle Theater
17 September 2010 - 11:41pm
|
superuser
by Jason Pramas
Cambridge, MA - Arianna Huffington of the Huffington Post spoke with host Christopher Lydon of Radio Open Source about her new book Third World America to a sold-out house at the Brattle Theater on Monday. The event was sponsored by the Harvard Book Store. Following the discussion, Huffington took questions from the audience then signed copies of her book.
Audio of the Arianna Huffington/Christopher Lydon talk was provided to Open Media Boston courtesy of the Harvard Book Store. The audio was recorded by Anthony DiBartolo and is Copyright Harvard Book Store 2010.

The audio file can also be found at http://blip.tv/file/4138296/.
Text and image by Jason Pramas.
License:
Creative Commons 3.0 BY-NC-SA